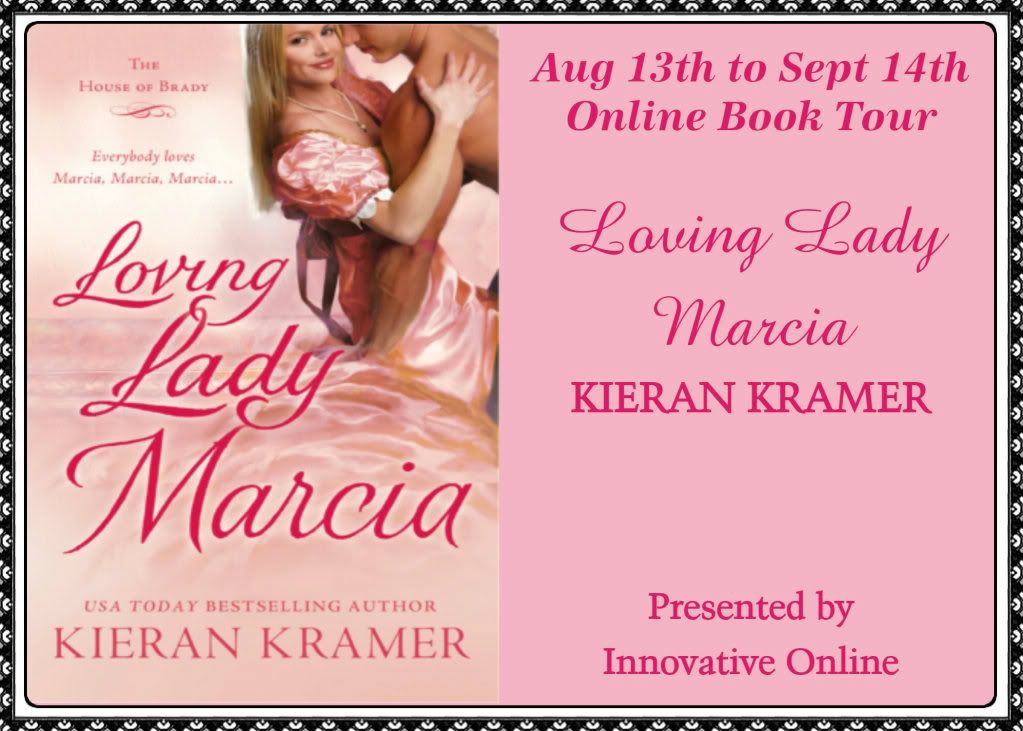 Hey guys! Welcome to today's spotlight! At the end of last month, I posted a review of this book as part of the review blitz. Today, I am going to be spotlighting the book! Oh and for those of you who are interested, you can check out my review
here
!
Loving Lady Marcia
MARCIA GETS SCHOOLED…

Of the three Brady sisters, Lady Marcia has always seemed the girl most likely to lead a perfectly charmed life. But after a handsome cad breaks her heart, she swears off love and devotes her life to teaching girls at a private school. In spite of her family's wish for a London debut, Marcia is happy where she is—until terrible news sends her back to the Brady clan…and into the arms of an unexpected suitor.

ON THE SUBJECT OF LOVE

A dark and dashing earl who knows Marcia's past, Duncan Lattimore is surprised by what a fascinating and independent woman she's become. Marcia, too, is surprised—by the fiery attraction she feels for Duncan. But why—why—must he be the brother of the scoundrel who broke her heart? Why must Marcia's rival at school forbid her from seeing him? How can this lady possibly resist this fellow—when they know that it's much more than a hunch…?
Kieran Kramer

Double Rita®-finalist and USA Today bestseller Kieran Kramer is the author of the lighthearted Regency historical romance series, The Impossible Bachelors, published by St. Martin's Press. She has a new six-book contract with St. Martin's for another
Regency series called The House of Brady, premiering in August 2012 with LOVING
LADY MARCIA. A former CIA employee, journalist, and English teacher, Kieran's also
a game show veteran, karaoke enthusiast, and general adventurer. Without doubt her
greatest adventure, which she's taken hand-in-hand with her husband of 23 years, a
commander in the US Navy Reserves, has been mothering their three children.


Time for a short excerpt!
Here's a little snippet from a random page — The guy's name is left out though, so you won't know who he is:

His eyes gleamed with something that sent shivers of awareness through her. "I'll leave you here." He lingered over the kiss on her knuckles, and her fingers clutched in response to the heat of his mouth. "I'm glad you paid me a visit."

She was appalled that she felt so reluctant to leave him. "I'm stopping by again," she blurted out, "to meet Joe."

There was a great silence between them.

"You can't do that." His voice was quiet. "For many reasons, not the least of which is protecting your good reputation."

"I know." She swallowed. "But I'm going to do it anyway. So don't try to stop me."

He lifted her chin, the gleam in his eyes becoming more pronounced. "You're both headmistress and troublemaker. Do you know what that combination does to a man?"

"No," she said, feeling rather breathless.

"It makes him unable to think of anyone but you. In the morning. At the noon hour. And at night."

At night? Her face grew hot. "_____________, you shouldn't—"

"Go home," he said abruptly. "Before I pull you into another alleyway."

And so she fled. Once she was at a safe distance, she glanced over her shoulder to catch a glimpse of him walking away. But he hadn't. He was still there in his black cape, his gaze dark and steady upon her beneath the rim of his hat.

She couldn't help herself. She turned and faced him, walking slowly backwards a few steps, her eyes locked on his, drinking in the sight of him. The wind blew a lock of hair in her eyes, and she pulled it aside.

She saw the corner of his mouth tip up once more, and her heart surged.

She spun forward again, and somehow at that moment—when she could feel him still watching her—she was able to forget the reality of her hopeless situation.

And for a brief, shining moment, it was like walking beneath an invisible rainbow into a bigger and brighter life.
Enter the giveaway here! 40 swag packages are up for grabs! Sorry, this giveaway is only for US/CA readers:(
a Rafflecopter giveaway
Giveaway details:
A swag package containing the following:
1 Loving Lady Marcia mini book wine charm

1 pink Loving Lady Marcia pen

Romance Trading Cards (Loving Lady Marcia and Impossible Bachelors)

1 Kieran Kramer post-it notes

1 Impossible Bachelors bookmark

1 Loving Lady Marcia bookmark
So yep, that's about it for today! Go
here
to check out the other tour stops! You'll find loads of awesome stuff on the other tour sites too! :D