Hey guys! Welcome to today's blog tour! Today, we have Christopher joining us with a guest post about his motivation as an author! We also have a giveaway lined up for you! Simply fill in the Rafflecopter form and you're done! As of now, there will be a single winner, but if response is good, there will be more winners! All winners will receive a Smashwords coupon to download the book. You can then transfer it to whichever device you want! :) So yep, do sit back and enjoy today's post!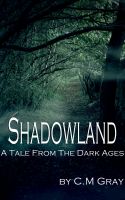 Shadowland by C.M. Gray
We grow up with the Legend of King Arthur ... But where did he come from? Who was Merlin? What part did the Druids play in bringing Arthur to his round table? Shadowland is the story that came before, when Britain was in its darkest age. It tells of the start of the Pendragon line and the birth of a legend.






`I have lived more years than I can remember, probably more than the sum of all your years combined. Kings have called me friend and brigands have sworn to burn the flesh from my bones even if they have to search all seven halls of the shadowland to find me.'





On the night of midwinter's eve, a storyteller takes his listeners back to the Dark ages and a tale from his youth.





Usher Vance and Calvador Craen return to their village to find it being attacked by a Saxon and Pict war party. With the help of an aging bowman they pursue the warriors and manage to free Cal's sister. Now being hunted they escape into the forest and follow the path a druid sets them on find welcome and a few surprises with a rising army of Britons set upon reclaiming their land from the Saxon invaders.





With the death of Ambrosius at Mount Badon a new king must rise to meet the challenge and return the land to the tribes.
Check it out on Goodreads!
C.M. Gray
Born in Essex, England in 1963 I have since been lucky enough to live and travel in many countries around the world. In fact I have lived more time outside of England than I have living there! Home for me now is just outside of Barcelona, Spain where I live in a house in the middle of the forest with my Dutch born wife and two children, Dylan and Yasmin.




My writing is mostly fantasy and many of the experiences I have had in Asia, Africa and the middle east come to life in my writing. The Flight of the Griffin follows the adventures of a group of young orphans as they battle demons and bandits on a magical quest to stop the world tipping into Chaos. Shadowland blends fantasy with history as an old story teller takes his audience back to Britain's dark ages.
And now, let's welcome Christopher to the blog to talk with us a little about his motivation!
Motivation as an Indie author
There is an old saying that everybody has a book or two inside them, I remember hearing that echoing around in my head for years. I have been an avid reader since I was about eleven years old. I remember starting on books like Enid Blyton's Famous Five and The Secret Seven. Treasure Island and Robinson Crusoe soon followed and by my early teens I had read everything by Wilbur Smith and was starting on the Steven King books as they were just coming out (yep, I'm that old!).
I discovered the world of fantasy in my twenties when discovering an old copy of The Hobbit in a second hand book shop. The Lord of the Rings soon followed. Those books unlocked a certain something in my head, as I know they did for many writers.
Fast forward a good few years, and after travelling the world, living in places like France, Amsterdam, Israel, India, Hong Kong and The Philippines, I settled in Spain with my wife and two Children, Dylan and Yasmin.
At the time I typed out my first sentence, Dylan was still a baby and my wife had discovered reality TV shows. I took a distinct dislike to watching people make fools of themselves trying to sing, and sat down at my laptop.
'We all have a book or two inside us... ' It was still there. Little did I realise, but the experience of writing was better than watching a film, better than playing a game on a computer and even better than reading a great book; it turned out to be all three things combined!
I type really fast and to be honest the first draft of anything I write is filled with mistakes and has very little grammar; I just have to get the 'story' out. It's like reading that great book but controlling the characters as I would in the computer game and the film just plays in my mind.
About four months after sitting down that first time, the first draft of The Flight of the Griffin was born. I proudly typed 'The End' and thought I had made it; I was an author! However, reality struck when I started reading and found I had to do an awful lot of work to bring it into any kind of legible state! When I had done my best with it I had to pass it over to an editor and it's amazing what a really good editor will find. I now work with a wonderful lady on my books named Caro from Carocaro editing. Caro is a wonderful person who is very supportive and, as a retired teacher, really good at helping me produce the best book I possibly can. I sit reading her edits shaking my head thinking 'How on earth did I miss that... and that ... and...
Now with two books published on Amazon Kindle and Smashwords, and paperbacks of both available on Amazon and LULU and all selling well, I'm back to writing again and working on the final chapters of the sequel to The Flight of the Griffin, it has a working title at the moment of Chaos Storm.
What motivates me to write? Well it's just the best thing I can imagine... well, one of the best things... I don't write in any structured way. I hate the idea of coming up with a basic plot and filling in the gaps, that's far too constrained and confined. When sitting down for the first time, I spend some time coming up with what I believe is a great first line, and then see where that will take me. A page or two in and a scene begins to unfold for me and ideas start to flow. After a chapter or two, I have an idea where a story is hiding and start to chase it. I then start to notice where a subplot might be and expand on that so that by the third or fourth chapter I may have three or four 'threads' that are flowing. It's then a bit of a task to keep tabs on these threads so I tend to make notes; the worst thing you can do as a writer is to leave something hanging and unfinished. Towards the last third of the book I'm getting worried about an ending, the ending just has to be good! I suppose all these things are what motivate me and it really is a lot of fun. When I start to get feedback and positive reviews it really motivates me to write more. A writer needs readers and I only know if my writing is good if the reviews are good, so please, read my books and review them if you like them!
Anyhow, if you've ever heard a small voice in the back of your head telling you to switch off the television and write a book, give it a go. We all do have a book or two inside us and it may just be that your one is an awesome read!
And now, enter the giveaway here! 1 winner will be selected, but if response is good, I will increase the total number of winners! So don't worry, just enter and you may just win!
a Rafflecopter giveaway
So yep, that's about it for today! Go here to check out the other tour stops! You'll find loads of awesome stuff on the other tour sites too! :D